As the pandemic continues to pose new challenges for the creative industry, we sat down with Creatives and Designers from Tribe agencies around the world this month for our Creative Roundtable discussion. We explored how agencies prepare and present creative work, how pitching has changed in the era of virtual presentations, how agencies are managing creative follow-ups and more.
As our latest Tribe Intelligence survey coincided with the Creative Roundtable, we asked Tribe agency leaders, Creatives and Designers three questions around inspiring creative work, post-pandemic messaging and how WFH has affected their agencies.
The first question we asked was – What creative work has excited you most so far in 2021?
Here are a few examples from our Members & Partners.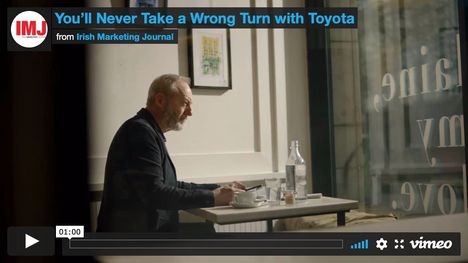 The opportunity for NFT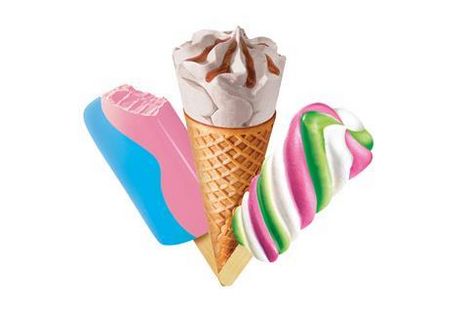 One agency was most excited about a local campaign for an ice-cream brand targeted at teenagers and young adults. The campaign which was held almost completely out of mainstream media, involved one team of influencers. It received huge sales success, lots of free PR and they used almost no paid media. The brand had earlier used standard TV formats with celebrities. Influencers worked on a success fee and got almost full freedom in terms of their activities.
Others were excited about trying to figure out how to create new, engaging interactive web experiences- and creating work that feels bright and uplifting.
It is encouraging to see that despite the difficulties and restrictions over the past year, there is still inspiring, thought-provoking creative work being made. We are also keen to see how NFTs will change investing.
In question two, we asked - Going into the pandemic we saw lots of "We're here for you" messaging. What do you think the messaging will be coming out of the pandemic?
The chart below shows the key messaging that our Members and Partners expect to see.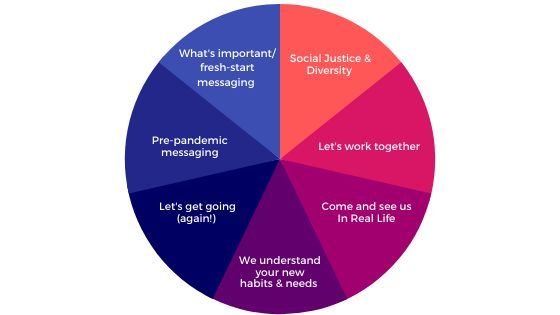 Recent research from GfK 's Consumer Pulse Report discovered that consumers remain split on what specific messaging they want brands to employ after the pandemic, but among those who prefer a "different world" approach to communications messages, a majority said they'd like to see messaging that involves protecting consumers' and employees' health.
Lastly, we asked our Members and Partners - Has working from home during lockdown helped or hindered your creative department?
The majority of respondents were positive about the effects of working from home on their creative teams. Some explained that they quickly adapted and WFH has actually helped them to get to different creative places. Some are working to a Hybrid Model.
Others are less positive, explaining that their work has remained strong but can benefit from in-person collaboration and that it has definitely weakened some agencies cultures. They miss the ability to huddle.
Some have survived but not thrived, and hope that WFH will be an exception rather than the norm.
Surprisingly, only 29% said that working from home has really hindered their creative department. Let's be honest - nothing beats being in a room and workshopping together where people feel they can speak up any time.
The overall opinion from our Members and Partners is a unanimous agreement that everyone is looking forward to getting back to the office for in-person, fluid collaboration again, with some moving back as soon as the beginning of June 2021.
We look forward to seeing creative teams united around the world and more award-winning work being developed as creatives come together IRL again!
If you would like to discuss the findings from this month's research or find out more about Tribe Global, please email Elaine Miller at: elaine.miller@tribeglobal.net .
Don't miss next month's Tribe Intelligence research!