This month, our European and Middle Eastern Members and Partners reunited in the beautiful city of Rome after more than 2 years. The following week, on the 15th and 16th of November, our North and South American Members & Partners came together in vibrant New York City.
As a global network of successful, independent marketing and communications agencies and business partners, meetings are extremely important to connect the Tribe community of 42 Members & Partners across more than 80 cities around the globe.
The European meeting was held at creative agency KleinRusso 's office in Trastevere, and was kicked-off by a networking lunch followed by a warm welcome from Tribe Global's Chair, David Balfour.
Day one involved a speed-dating session to introduce the network's new Members & Partners, a news update from Tribe Management, and thought-provoking presentations on network collaboration and initiatives in the time of COVID. The day concluded with board director and Co-Founder of Comma , Greetje Demuelenaere, and Ivan Trushin, Director of Brand & Design at Bolin , presenting Tribe Global's new story and brand identity!
The second day of the meeting was actioned-packed with presentations and discussions on sharing tools and resources, Out-Of-Home trends, the challenges that Members & Partners face and an introduction to Bilobay – a carbon off-setting tool for the communications industry. Comma surprised the group with a fantastic beer tasting from Bar Belge with lunch.
We were also thrilled to welcome a special guest speaker – Fedele Usai, Global CMO of Dolce & Gabbana . Fedele travelled from Milan to speak with the Tribe about the importance of disruption today, quoting:
"Content is king, but disruption is queen and she wears the pants".
Fedele discussed the shift in communication from 'What' and 'How' to 'When' and 'Where'. E-commerce was also an occurring theme. No Tribe meeting would be complete without mentioning football, and Fedele didn't disappoint, using Eric Cantona's infamous trawler speech as a metaphor.
Over in New York, our board directors Todd Bolin and James Rice lead the meeting which was kindly hosted at USIM 's NYC office in Midtown. The meeting began with a casual networking dinner to introduce our new Members & Partners. The one-day meeting programme included presentations on branding, Out-Of-Home trends, TikTok and LinkedIn, as well as a working lunch on targeting/personas lead by USIM.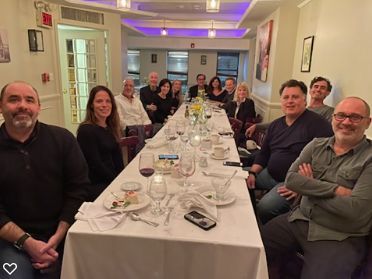 The meetings were a big success and we thoroughly enjoyed bringing the Tribe community together again, discussing important topics, learning and sharing together and seeing the connections and close relationships that continue to grow and evolve in the network. Now the countdown is on to our Annual Meeting in Dubai in March 2022!