This International Women's Day, Nicole Penn, President of our Member agency EGC Group and Tribe Global Board Director, shares her views on gender equity and explains what her agency is doing to creative a supportive work culture.
I was recently asked to give a presentation on gender equity in the workforce, as part of a series focused on Inclusion and Diversity.
While I researched the latest statistics and dug into the data, I was disappointed to learn that there is much work there is to do. In fact, as noted on this chart, the world is about 100 years away from closing the gender gap.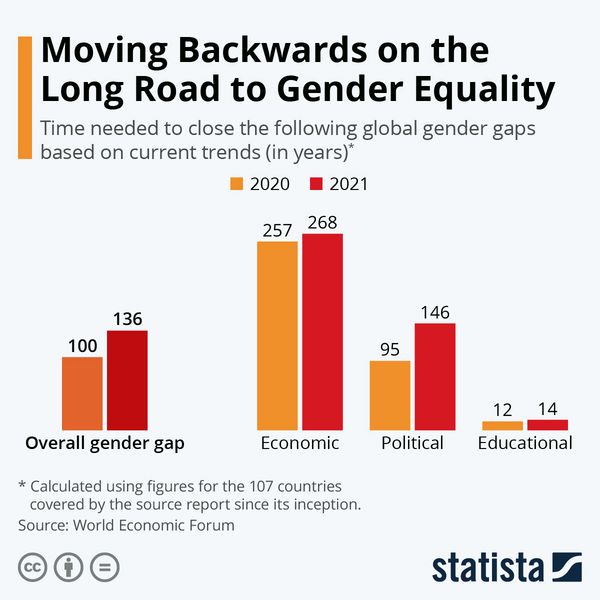 The gender wage gap still exists and is quite wide in key industries. The gender gap in political representation and voting still exists.
And, COVID placed a tremendous strain on working women.
At the height of the pandemic, women left the workforce at four times the rate of men.
Today, over a third of the women who left the workforce have not returned.
While remote or hybrid work has given some freedom and flexibility to working parents, many women are shouldering their careers while handling way more domestically than they ever have, especially given today's child care shortage.
I found this chart the most surprising—and disappointing.
Often, while men are happy to have a dual-income household, data suggests that they aren't contributing to the day-to-day roles of child care or housekeeping. (And a huge thank you to my husband, who is an outlier to this data and shares in all of the responsibilities.)
The summary of all of this? What can we do?
Support, mentor and advocate for the women in your life. Build your network with peers and mentor those who are just starting.
Create a supportive environment and work culture. We've made recent changes to try and support our team—including unlimited PTO, flexible work arrangements—and we will continue to strive to do better.
Gender equality begins at home. We can't expect women to continue to rise up professionally and politically while also keeping the traditional roles of the past.