Our first question was – 'do you expect clients to ask for greater justification of media spend going forward?'
No big surprise here as justifying media spend has been on the agenda for years. 58% of the Tribe said there would be greater justification requested by clients. The reasons put forward for greater justification were – 1) more scrutiny internally on budgets and ROI, 2) reduced budgets and greater expectation on results, 3) cost pressures at the client, 4) the never-ending justification of agency costs and 5) the major platforms such as facebook, google and amazon are increasingly easy for clients to self-serve, therefore why pay agency fees and commissions!
We then asked the Tribe what media activity and communications channels would be the winners and losers in a post Covid-19 world.
The biggest winner, but only just, was video with 86% of respondents saying there would be much more/a bit more video used going forward. Nobody thought there would be less video.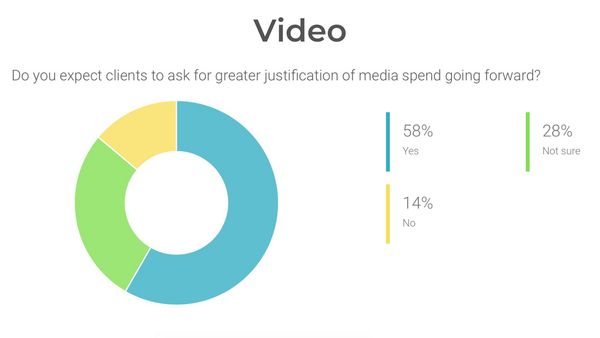 Social scored very highly as well with 83% saying there would be much more/a bit more. This is confirmed by discussions with Tribe Member agencies; those that focus on social (and digital) or who have invested greater resources into this skill-set tend to be performing better during the Pandemic.
But don't forget about traditional media – TV and radio are doing well and according to our Members and Partners will continue to do well. 75% said there would be much more/a bit more TV. The high scores for TV and radio are undoubtedly being driven by the homebound economy and the future role of the home as a place for living and working. Longer format TV and radio is also on the rise allowing brands to tell and share their stories. Another driver for TV, certainly in the UK, are the massive discounts being offered to agencies and advertisers. Discounts on airtime of 80% are there to be seized.
PR also scored highly with only 6% saying there would be less PR in the future. The changing behaviours of clients, which we have reported on, are undoubtedly fuelling PR as clients want to tell new stories and demonstrate their CSR credentials as well as their place in local communities.
CGI is also a winner. In this new world, new ways of approaching and delivering communications were viewed very positively. We need to think differently and that is why 45% of respondents said there would be much more/a bit more CGI in the future. Today live shoots are being replaced by studio generated CGI.
So, I'm sure you've guessed the losers. The challenge for all of these channels and activities is to find ways of re-inventing themselves and adapting to a world that is more homebound and activity restricted.
With lockdowns still in place and social distancing going to be with us for a while, cinema was the biggest loser with 92% saying a bit less/a lot less.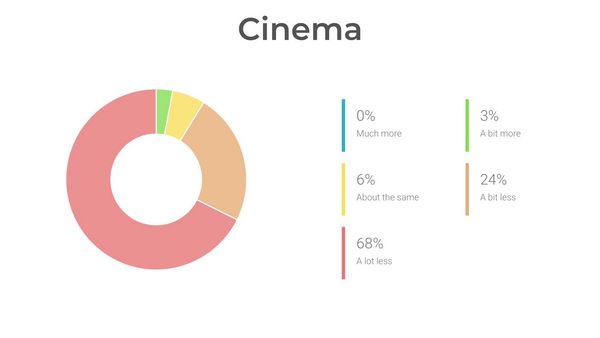 Experiential activity scored 65% for a bit less/a lot less, however 34% of respondents said about the same/a bit more/much more. Over the last few years we have seen huge growth in experiential – the challenge is how they develop virtual experiential activities.
We've all been out on our daily walk, jog or cycle. The numbers of people outside have fallen considerably, however as countries come out of lockdown numbers are starting to increase. However, whilst the easing of lockdowns means more people are on the streets, they are not there in the same numbers or as frequently. OOH of all our categories has the least clear results. 54% said a bit less/a lot less whilst 46% said about the same/a bit more/much more. With more freedom to move my guess is that OOH will see a reversal in the figures over the next few months.
One thing is for sure though – as all the media channels compete for a share of smaller budgets, they will need to prove their worth, be innovative, results focused and promote themselves very hard. It should be a good time for agencies.
If you are interested in becoming a Member or Partner of Tribe Global or would like more information about how Tribe Global can help you, please get in touch.
Email: i.wright@tribeglobal.net
Tel: +44 7968 393 876