Our industry has often been seen as a barometer for the health of a country's economy. One key factor contributing to this, is optimism. If there is little optimism, it's fair to say that business is going to be tough.
With different countries around the world at different stages in dealing with the Pandemic, we asked our Members and Partners to share their thoughts about optimism, looking forward 6 months, when most of us should have emerged from lockdown and then 12 months ahead, when hopefully business is starting to bounce back.
Thankfully, there is a positive shift between 6 months and 12 months.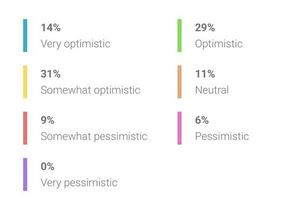 Looking forward 6 months to the end of the year, 19% were optimistic or very optimistic, with 38% somewhat optimistic. However more than 40% said they were neutral, somewhat pessimistic, pessimistic or very pessimistic.
However, zoom forward 12 months to May 2021 and we see a big jump in the optimism scores and a decrease in the pessimism scores.
43% were optimistic or very optimistic with 31% somewhat optimistic. Those feeling neutral or pessimistic dropped from 43% to 26%
We all know that we face tough times ahead. The next few months will be challenging for most of us, however looking further out there is real optimism about the future. Tribe Members and Partners recognise that optimism comes from understanding what the new needs of Clients will be and at the same time making sure they have the skill-sets and capabilities that make them future-fit.
If you are interested in finding out more about the Tribe Global network please get in touch.
Email: i.wright@tribeglobal.net
Tel: +44 7968 393 876