Last month we launched our monthly research survey to share intelligence with our audience and give you some valuable insights. Here are the results from our latest survey.
One year has gone by since the World Health Organisation announced the Pandemic and we saw a global shift to WFH. We asked the leaders from our Member agencies and business Partners the big question - are you more productive working from home?
Almost half of respondents (48%) reported that they are equally as productive working from home as they are working from the office. 39% of respondents are not more productive. Only 13% stated being more productive working at home.

Could this be a result of the emotional toll of working from home? Lack of interpersonal contact, anxiety around the Pandemic and not being able to focus properly due to tasks such as home-schooling may be some of the factors affecting productivity levels at home.
With so many of us working flexibly and communicating online we asked our Members and Partners what video conferencing platform they prefer.

The pie chart shows that more than half of respondents prefer Zoom, with 52% choosing this platform. An interesting result as last year Zoom saw a 535% rise in daily traffic through their application (Gaurdian). 26% prefer Microsoft Teams and 13% prefer Google Meet. Webex and GoToMeeting were mentioned by only 4% of respondents respectively.
Regardless of which video conferencing platform you prefer, it's safe to say that these platforms will continue to be used regularly going forward.
Lastly, we asked the Tribe if they have made any changes to their business, such as relocating, since the start of the pandemic. 39% of our Members and Partners who filled in the survey have made no changes. Unsurprisingly the other 61% have made changes or plan to make changes this year.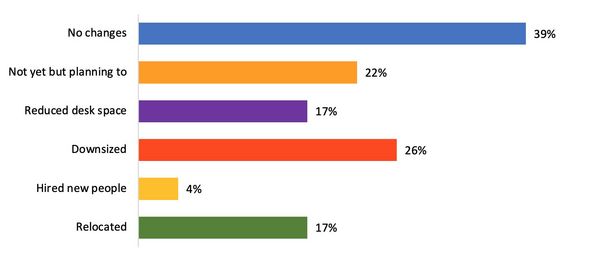 22% are planning to relocate, downsize and/or reduce desk space this year. 26% have downsized. 17% have relocated, 17% have reduced desk space in their office/s and 4% have hired new people.
These results echo thoughts mentioned in last year's Covid-19 research survey, in which everyone recognised the need for more flexible working.
Are you witnessing similar changes to agencies and businesses in your market place?
If you would like to discuss the findings or find out more about the Tribe Global network, please email Elaine Miller at: elaine.miller@tribeglobal.net .
See you next month!