A new collection of some of our favourite festive projects.
With businesses and agencies preparing to close for the holidays, we bring you a new collection of outstanding work from the Tribe. Take a moment to be inspired (and filled with Christmas joy) by reading about some of the talented new projects from our network!
Altermark - I love OOH campaign
I ❤ OOH. Simply put, we are Out of Home addicts. We love what we do. As 2020 started to wrap up, we wanted to send a message of love and appreciation to our industry and the world. When the pandemic started in March, many of the Out of Home professionals squirmed at the new hashtag #stayhome. Obviously, it was what we needed to do for our safety and the safety of others, but as a group that has always bragged that we spend approximately 80% of our day "out of home", this was a new reality that we would need to navigate.
As always resilience shines in the light of adversity and this is just what our industry and colleagues did, they shined. Media owners were quick to offer their space for public service announcements regarding COVID, mobility reports were closely monitored so we could inform advertisers exactly how the new hyper-local traffic was our new focus, media owners focused on strengthening their "in-home" media offerings so we could target the consumer while they were #stayinghome. We all reacted, adapted and came out stronger.
So, this brings me to our I ❤ OOH campaign. This was a project of love, created by Altermark and made possible by vendors all over the world that contributed media space to spread some love. The message was live in over 13 countries and 56 cities. It was an act of gratitude, we wanted to say well-done and hang in there to the many media owners that faced challenges during a tough year. It was a way to bring love to many cities that were missing the energy that their once crowded sidewalks resonated. The choice of the campaign's creative also aimed to honor the late American graphic designer Milton Glaser , creator of the "I Love NY" ® logo, who died in June of this year. It was a way for Altermark to show how we truly ❤ OOH. During a year that changed all our lives forever, we grew as a team, we became more united, we strengthened our core and we proved how powerful our medium and our specialists can be when working together.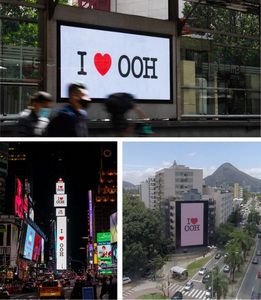 Billups - Power Of
Launching on #GivingTuesday this holiday season, Billups partnered with PowerOf to create a powerful, traveling (neon) sign of hope along with over 1,000,000 coffee sleeves featuring a diverse group of local and nationally known artists who were asked to create original pieces demonstrating different ways to volunteer locally. PowerOf, a new non-profit site, showcases virtual volunteer opportunities around Seattle and other parts of the world. The curated tasks are fully vetted by the Bill & Melinda Gates Foundation to benefit communities hardest hit by COVID-19. Most notably, the site was developed when data revealed that people wanted to help their communities but didn't know how to do it. Good news: throughout the pandemic, the desire to volunteer has actually increased and PowerOf seeks to harness the momentum to tangibly make a difference for good.
Here are some of the artists who are contributing to the project: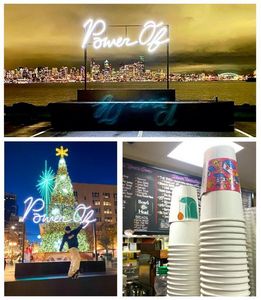 WE - KFC 80
While KFC celebrated 80 years of the secret recipe in Israel, Coronavirus Lockdown caused people to pass the time by cooking at home. So our friends at WE thought - "why don't we combine KFC and home cooking?!"
We created a social activity and asked followers to make their own version of the KFC recipe, with one of the leading food influencers. In order to compete, fans had to search it, cook it, photograph it and share it. Four top recipes qualified for the Grand Finale. After a tasting at our finalist's homes, we ranked each recipe using 3 criteria.
1. Look
2. Taste
3. Crispiness
Then we selected one happy winner! The results speak for themselves, with over 100,000 impressions, over 2,000 engagements, +700 likes, +380 comments and over 120 recipes.
Watch the video here .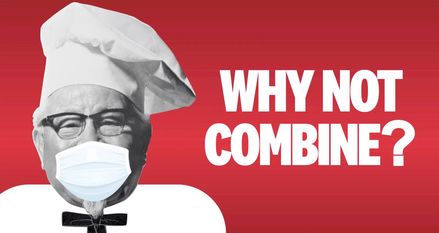 If you would like more information about any of these projects or would like to get in touch with a Member of Partner who was featured, please email Elaine at Tribe Global on elaine.miller@tribeglobal.net