This month Cristina Dezcallar, Founder of boutique marketing agency DaGusto , gives us a deep-dive into her agency, sharing her predictions for the year ahead and showing us some inspirational case studies from clients in the Fashion, Food & Beverage,Alcohol and Real Estate sectors.
Hi Cris, tell us about your agency, how do you describe your agency to clients and potential clients?
Hi Elaine!! DaGusto is a boutique marketing agency based in Madrid. We are experts in wine & spirits, lifestyle brands (food, beauty) and real estate.
We provide consultancy, branding and integrated marketing services both offline and online.
Our structure is very unique: A mixture between employees with a full-time contract and a team of talented collaborators that work on a project basis with us. It's been like this since the beginning of the agency. This has three main benefits: flexibility, cost and perfect match.
Flexibility: We can work for big or small clients. We can adapt our prices depending on the assignment and people involved. It also means that our team can work from home with flexible schedules.
Cost: We minimise costs because we adjust the team for each project. The client only pays for what they use.
Perfect match: We can assign the best person for each project (by personality, talent, expertise, salary, etc). We have access to very talented and experienced profiles that otherwise we couldn't afford. This also increases the motivation of our team. Everybody works on projects or with products they feel more aligned with.
This was quite revolutionary fifteen years ago. Now, with the pandemic, everybody is familiar with working from home or remote working. Communication is key to the success of this working model.
And probably the most important thing is that our team is very happy and motivated with this model. 80% of them have been part of the agency since our foundation in 2006!!
How long has DaGusto been in business?
15 years. Since April 2006. We are already thinking about our next celebration party when all this is over…
You are based in Madrid – tell me a bit about your city.
Madrid is the capital of Spain with a population of 6.6 million people. It's the economic power of the country and the government's HQs. It's an open city where most of the people or their families come from different regions in the country. That's why we are warm people that easily integrate those who come to work in Madrid. You would feel at home very quickly!!!
They also say that it's a city that never sleeps…famous for its nightlife and enjoying life to the max!! It's a bubbling city where there are new things happening all the time. It has an interesting cultural life with extraordinary museums (The Prado, The Reina Sofia, The Thyssen) and some of the best restaurants in the country.
They also say that the light is very special. We have one of the bluest skies in the world and the sunsets are also amazing…and it is the second "Tree City" of the world with more than 240,000 trees (after Tokyo)!
Going back to business, who are your key clients?
Wine cellars like Remírez de Ganuza, Wandering Grace rosé, González Byass or Pernod Ricard wines; fashion sartorial brands like Oteyza; food brands like Cinco Jotas 100% ibérico ham, Gelateria La Romana, or ASAL 100% pure Spanish Saffron; beauty concepts like Bajobé make up school and Real Estate funds like AEW or ICC Iberian Capital.
What do clients like about your agency? What is your secret sauce?
I think that our key is service and understanding our clients needs. We've been clients before, then publicists. I used to work at L'Oréal and some people in the team have worked as clients before. We've been on both sides of the table and have an empathetic approach to our clients needs from a wide perspective. Our clients value our dedicated service to their projects. We've always preferred quality to quantity and in many occasions, we integrate client's teams and work together on projects with them. We build strong trusting relationships that make it easier to work together.
We continue to work through the Coronavirus pandemic, what is the latest news from Madrid?
We are one of the few cities in Europe where the bars and restaurants are not closed, which has allowed us to continue with some of the economic activity in the city (mainly outdoor areas & terraces and with a 9PM curfew for the past three months). It's a strategy that is working so far. There are no significant differences in Covid numbers compared to cities that are in complete lockdown.
A new fully equipped pandemic hospital was built during the summer, called Isabel Zendal. It's only for Covid patients. In the future it will be a hospital dedicated to pandemics. The local government has invested a big budget in hiring more medical staff for this hospital.
The vaccination programme is at a slow pace. Almost 13.5 million vaccines have been administered. 7.6% of the population have received the full dose as of April 22nd. We are relatively optimistic about the forthcoming months where we expect mass vaccinations. The objective is to have 70% of the population immunized by the end of the summer…Let's hope it's realistic and possible.
Are you doing anything new or different to support your clients through the pandemic?
Yes!! We've offered discounts in fees during the lockdown months (which were highly appreciated), we've implemented flexible payment conditions, we've called our clients a lot, been there showing real interest in how they are coping with the situation. We've been a bit of an extended family to them, always trying to show empathy and good vibes. We are a resilient agency that focuses on adapting to the changing situation.
What can you offer other Tribe Members and Partners?
A solid partner that can help them to implement all types of projects in Spain: from local influencer campaigns, to very efficient shooting production costs or brilliant local strategies adapted to the culture. We provide good contacts with excellent results.
As we move through Q2, what are your predictions for the year ahead?
We are a country that depends too much on tourism. Last year we lost 82% of tourism income, which has led to an 11,6% decrease in our GDP in 2020, the most affected economy in the OECD.
The IMF and other European predictions are optimistic for 2021 with a 5,6% recovery rate for Spain. Definitely not before the second semester, but we expect a rapid reactivation.
Concerning the agency, Q1 has been very similar to last year's (before COVID). We are maintaining most of our clients from 2020 and focusing on gaining new ones: the strategy is to increase business with our existing clients by offering them new services and attracting new clients on digital projects. We don't expect to see events happening before Q4 so all efforts are on digital, branding and consultancy projects.
Some people are predicting a new crazy twenties after the vaccination, so let's hope there's lots of Spanish wine & food in those celebrations very soon!!!
What have you done recently that you are most proud of?
Professionally, we've managed to shift from a mainly events income model to a more digital agency very quickly. We've hired people with digital experience and I have done a Master's in Digital Marketing, so we are even more focused than before on web design, online campaigns, Google ads, Fcbk ads, influencer marketing… it's been our salvation to get through the pandemic and we will definitely continue on this track once it's over!!
Personally, I have discovered that outdoor sports are fundamental to cope with the situation from a mental and physical point of view: hiking and paddle tennis in my case. The energy of nature, fresh air and exercising is very rewarding. Also, not watching the news and using your sense of humour is vital! It's the only way to keep up!
Who is your favourite football team?
Real Madrid of course…HALA MADRID! I'm also a supporter of La Real Sociedad (San Sebastián - Basque Country), as I am half basque and it's my favourite place in the world, but when they play together… my heart is for RM!!!
As we come to the end of the interview, I'd like to share some case studies that showcase the excellent creative work from our team!
Campo Viejo - Streets of Colour
The challenge: Make wine sexy for Gen Y and Z in Spain (The market is currently losing young consumers).
Our proposal: Streets of Colours by Campo Viejo is a creative concept with extensions in PR, events and digital that aims to bring the vibrant colours of the brand into the streets: urban art events with renowned artists Okuda & Remed in different cities, integrated marketing campaigns in all media, social media, on trade off trade strategies, sensorial tastings and a winetruck attending the most important music festivals in the country.
The results: The creation of all social media profiles, more than 100,000 people attending the events, a winetruck in more than 10 music summer festivals, product presentations, press releases, product launches, audiovisual content… 4 years being the agency of record for Pernod Ricard wines with very successful results in all areas.
Watch the highlight video from the event
La Romana - Marketing Strategy
The challenge: We were challenged with designing the online marketing strategy for La Romana in Spain, launching the social media profiles for each shop (8 locations in Madrid and Valencia) and coordinating the communications strategy for the brand.
Our proposal: We coordinated the marketing plans for the 8 locations in Spain including; the communication strategy on social media, Google my business, Tripadvisor, internal and external events, influencer marketing and press.
The results: We've been working with our client La Romana for the past 6 years.We have helped the brand create a healthy, growing community on social media:Instagram, Facebook and recently TikTok!! We also handle all the brand's communication with reviews on Google and Tripadvisor and online marketing campaigns on Facebook, Instagram and Google. We have organised various types of events in Spain including: the Italian Embassy, street markets, concerts, influencer events, Tennis open, horse races and more.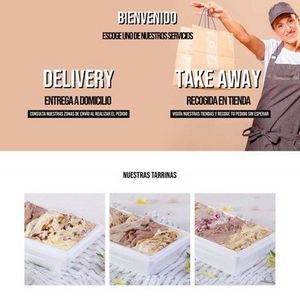 Citydox - Branding + Digital
The challenge: We were challenged with creating a revolutionary name, branding and concept for a new logistic centre in Spain, based on the idea of a campus more than a place related to warehouses, trucks and impersonal pieces of land.
Our proposal: CITYDOX Madrid. A combination of an urban concept for a logistic compound and a transformation of the English word "docks"into "dox". We gave importance to the letter "X" because the terrain and constructions have the shape of an "X" with buildings on each corner of the plot.
The results: Naming + logo + web + SEO + audiovisual content.
Oteyza + Cinco Jotas - Film
The challenge: DaGusto were challenged with pairing two luxury brands from different sectors with an international export focus and produce a fashion film for Oteyza, so that they could be at the Paris Fashion Week 2020 & 2021.
Our proposal: We put together the best ibérico ham in the world (Cinco Jotas) and the best Spanish Sartorialist designer (Oteyza) to produce a fashion film to show the collection in Paris (no real catwalks since COVID19). We managed to integrate both products in an elegant and effectiveway.
The results: Hundreds of thousands of views in Youtube and the Paris Fashion Week digital platform. We opened the national TV news on prime time and we had excellent results for media coverage in Spain and international press. We also created social content for both clients with the material and it was a good collaboration between both brands.They intend to continue collaborating in the future.
Watch the film from Paris Fashion Week SS21
You can contact Cristina at: cristina.dezcallar@dagusto.es