Aldo Cundari, founder of Canada's most awarded independent agency Cundari , sat down with us (virtually) for this month's Tribe Focus interview.
Hi Aldo, tell me a little bit about Cundari, how do you describe your agency to clients and potential clients? How long have you been in business?
Cundari has been in business for 40 years. Here's some more information.
2 OFFICES - Toronto & Montréal
60 SUBJECT MATTER EXPERTS - We draw from a diverse pool of talented in-house subject matter experts to create nimble, customized teams empowered to make decisions throughout our organisation for quicker turnaround.
ALL SERVICE UNDER ONE ROOF - We offer a full 360 degree suite of customer-centric marketing services under one brand, which includes research, strategic planning, creative, branding and design, digital, social media and content marketing.
1000+ AWARDS - The most awarded independent agency in Canada. In 2014 we were recognised as the 6th most awarded agency in the world, and Cundari won Fast Company's Innovation by Design Award.
Connect the Dots™ - Connect the Dots™ is a simple, common phrase that intuitively describes our agency's philosophy and way of working. It sums up how we think, how we organize ourselves, how we communicate, and how we engage our clients. We connect the dots between data points to mine insights, we connect the dots between strategies and tactics, we connect the dots between brands and audiences along the customer journey, and we connect the dots between offline and online brand engagements. We do all of this to ensure target audiences have intuitive, efficient, and rewarding brand experiences each and every time.
Integrated 
Strategy Hub - Inspired by our Connect the Dots™ philosophy, we have taken a fresh approach to strategy. We avoid the conventional, siloed approach and have instead created a hub of strategists that come from digital, social, brand, media, and analytics. This allows us to work as a flexible "hive mind," applying the right thinking and perspectives on any particular project; for example, using some consumer insight or expertise from "brand" to enrich a digital strategy. Our constant cross-pollination of expertise enables us to develop strategies quickly and efficiently, and ensure they are "born" integrated.
Customer Purchase Journey - We embrace and value the customer purchase journey that puts the customer at the centre of everything you do. We do this through convergence to redefine the path of marketing spend across technology, data, media, content and, effectively engaging with customers across multiple touch-points and devices throughout the Consumer Purchase Journey
You are based in Toronto - tell me a bit about your city.
Toronto is Canada's largest city and a world leader in such areas as business, finance, technology, entertainment and culture. For example, Toronto has North America's third largest concentration of private IT companies, bettered only by San Francisco and New York.
Toronto is Canada's largest city and is North America's fifth most populous municipality – with a population of 2.9 million people. The Greater Toronto Area, usually called the GTA is home to over 6 million people. The city is a world leader in such areas as business, finance, technology, entertainment and culture.
Toronto's motto is "Diversity Our Strength". Known as one of the world's most multi-cultural cities, Toronto prides itself on its wide range of cultures, languages, food and arts. Almost half of its population are immigrants.
Going back to business, who are your key clients?
AGO (Ontario Art Gallery), Bimbo Canada (Dempster's, Villaggio Ben's, Oroweat, POM, Bon Matin)
Bimbo Bakehouse Inc. (Tenderflake)
Canada Dry (Mott's, Club Soda, Fruitsations, Gingerale, Clamato, Bai Water)
CCSL (Canadian Cancer Society Lottery)
Chartwell Retirement Residence
Fix AutoCanada Inc.
J.D. Irving Limited (Cavendish, Juniper Farms, CavAgri services,Fleetway, CFM)
Longo's
Maple Leaf Foods (All Brands)
Novus Glass
Ryerson University
Santa Margherita
Speedy Auto Service,
Toronto Real Estate Board
Toronto School of Art
Yellow Tail
What is it that clients like about Cundari? What do you do that is special?
We believe that clients want to know they have a partner that will challenge them to look beyond the norms which in-turn forces us to challenge ourselves. We also believe that great clients relations ships believe in agency partnership by participating in every step of the development and creative phase.
Client Quote
"We high-five each other when creative work goes to market, as we have been there with each other at every step along the way ... it's so fluid that it's hard to distinguish where we (client) end and you (agency) begin."
Jerry Sen, Director, Consumer Marketing, Maple Leaf Foods Inc.
We are in the middle of the Corona Virus pandemic, what is the latest news from Canada?
Toronto GTA and other major metropolitan areas have just been put back into a modified stage two. We believe that we will not have any staff in the office before mid to late January. The business climate is probably running at about 60% with minimal signs of recovery.
Are you doing anything new or different to support your clients through the Corona Virus crisis?
The key to success with our clients during the Corona Virus crisis is to constantly offer up new innovative ideas to help solve current problems. Example: given the workforce is mostly working from home we recommended to our client, who had decided to pull back from spending, to produce a series of delight videos 15 and 30 sec that show how refreshing specific drinks could be for happy hour online and offline events. We created both the alcohol and non-alcohol version. We also recommended to share them on social media and social digital ads. All production given the Corona Virus restriction was done inhouse in our studio and our edit suite.
Client bought it. And we believe that helped us build a better client relationship and left them with the impression that we are their partner and there to help. Watch the video below!
What can you offer other Tribe Members and Partners?
We Connect the Dots™ through our 360 suite of Marketing services.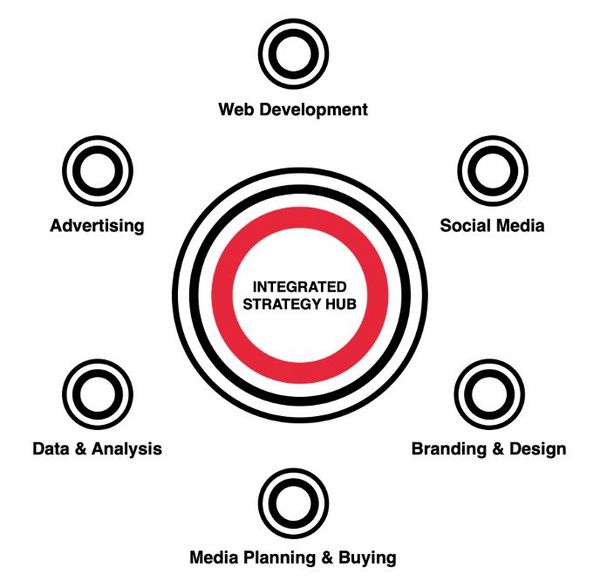 What have you done recently that you are most proud of
Professionally, I have been working extremely hard a try and keep all my staff employed, given the major reduction in revenue, this has been a challenge. To date we have only had four layoffs, two of which have moved on and the other two have returned to work recently.
Personally, I have been more active in my passion for art, specifically I have been sculpting, and the work that comes from that activity leaves me to be most proud.
Who is your favourite football team?
I have 2: Juventus or Lazio
View Cundari's case studies here .
If you would like to find out more about how Cundari can help your brand or agency, you can contact Aldo Cundari at: aldo.cundari@cundari.com