Hello and welcome to the first in our latest blog series: How Tribe Global are preparing for a new world once we emerge from Covid-19.
We are living in times that none of us have faced before. And each of us, our clients and our prospects are dealing with the same issues.
In recent weeks, Tribe Global has conducted a major piece of research with its Member agencies and business Partners around the world. The focus: how we are preparing for a new world once we emerge from Covid-19.
What are the challenges we face? What skill-sets does an agency need? What will Clients be looking for? How big are the competitive threats?
Over the next month, we will share our findings with you. I hope that you will find relevant and useful actions, as well as some inspiration.
The first three blogs in the series will look at the topic: Challenges. In this article we will look at the top challenge identified by Tribe Members and Partners.
Feel free to email me at i.wright@tribeglobal.net to discuss the findings and find out more about Tribe Global.
The Number One Challenge.
We asked our Member agencies and business Partners around the world to identify their biggest challenge at this moment?
The most common answer : growing current accounts/existing clients.
This conforms to other feedback in our survey, where we clearly see that the day-to-day laser focus is on existing clients and trying to find more work with these companies.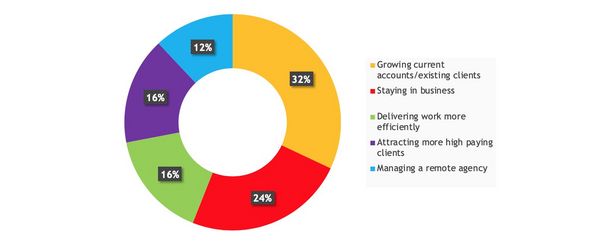 Answer Number Two: staying alive.
Answer Number Three: tied between delivering work more efficiently and attracting more high-paying clients.
Surprisingly, managing a 'remote' agency was mentioned by only 8% of respondents. We thought this would have been higher.
Whilst most of these responses are externally focused, many highlighted the need to manage cashflow over a pro-longed period.
Finally, several of our Members and Partners focused on responding to changing market conditions and adjusting their offerings, pricing and approach to meet the shifting needs of clients and the marketplace.
Does all this resonate with your views?
If you are interested in finding out more about the Tribe Global network please get in touch.
Email: i.wright@tribeglobal.net
Tel: +44 7968 393 876