By Alejandro Pérez-Ferrant, CEO & Partner | The Blueroom Project - marketing and communications, Spain | apferrant@blueroom.es
The Blueroom's Gastronomic Tourism Report 2018 contains the opinions of nearly 200 professionals in the Spanish tourism industry, 65% of whom are travel agents and tour operators.
At The Blueroom Project we carried out a national Gastronomic Tourism Report for 2018. The report looks at travel patterns through culinary experiences with the aim of evaluating the evolution of this market and providing a forecast for the years to come. The report, which was developed in the first half of 2018, contains the opinions of nearly 200 professionals in the Spanish tourism industry, 65% of whom are travel agents and tour operators.
Culinary experiences: a key factor
The analysis includes a detailed vision of the situation concerning the value of gastronomy when travellers select their destination, the brand image as an added value, and turnover. 80% of those interviewed believe that culinary experiences are a determining factor in their clients' travel choices and that they have an influence on the destination's perception. Only 14% of tourism professionals disagree. In addition, 40% of interviewees (the greatest percentage) believe that gastronomy contributes up to 50% towards a destinations appeal; meanwhile, 20% declare that gastronomy contributes to more than 50% of the appeal.
Concerning the analysis of market growth, 73% of professionals in the tourism industry have noted market growth in this niche. 42% have perceived a "significant growth" over the last three years. Similarly 29% of those interviewed claim that turnover for gastronomic tourism accounts for up to 30% of growth. 9% of interviewees reported that this market niche accounts for more than 30% of their turnover.
The analysis also revealed that the sale and promotion of culinary tourism is emerging as a real niche in the tourist market; 44% of those interviewed sell a gastronomic package, while 24% don't offer this product yet, but they are planning to develop it. 41% of interviewees admit that they promote these packages both online and via their social networks, i.e. Facebook and travel blogs.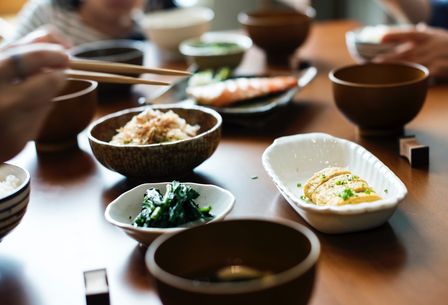 Added value
According to the majority of experts, gastro-tourists tend to combine culinary experiences with sightseeing of the destination and the surroundings with a tendency to visit: cultural itineraries, followed by wellness activities, themed events and shopping. Furthermore, the most interesting activities for gastro-tourists include visiting markets, factories or farms as well as gastronomic and eno-gastronomic festivals.
Gourmet destinations
The most significant regions in the travel industry are the Basque Country, Galicia, Andalusia, Catalonia, Asturias and La Rioja. More than half of the professionals interviewed would suggest a trip to León to their clients because it was declared the Spanish Capital of Gastronomy in 2018. While France, Italy, Japan, Peru, Mexico and Thailand are the foreign countries considered the most gourmets.
The Gastro-Tourist profile
The main conclusions of the study show that gastronomic tourism products are booked by both men and women between the ages of 36 and 55 who are looking for authenticity from their destination through food and drink. A high number of tourism professionals (49%) confirm that the preferred length of culinary travel is 2-3 days and 22% of the interviewees indicate that clients prefer a duration of one week. The study found that the preferred travel method for gastro-tourists are as couples, or with families, groups or associations and friends in that order. The report also found that gastro-tourists spend between 100 to 1,000 euros daily per person. 22% of professionals indicate that expenditure is never less than 250 euros daily per person.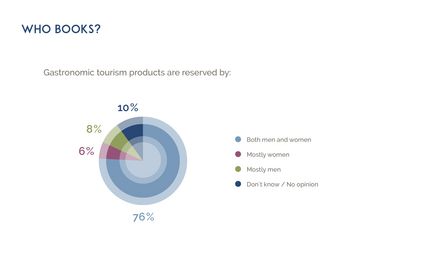 Conclusion
This year I had the privilege of attending the opening of the 4th World Forum on Gastronomic Tourism organised by the UNWTO in Bangkok. This was supported by the Basque Culinary Centre and other prestigious international speakers, where I learned that 40% of worldwide expenditure on tourism is related to gastronomy. This information, together with the results of our analysis and other studies, shows the strong potential and significant rise of this tourism niche globally. And… the most interesting finding for us, at The Blueroom Project, is that strategic communications by integrated multi-channel campaigns have been revealed as a key tool to maximize the value of gastronomic products available from travel companies or destinations.
You can find the complete Gastronomic Tourism Report 2018 conducted by The Blueroom Project here .
Follow us on social media via the links below and discover all of our Travelations here .
If you would like to speak to one of Tribe's travel experts, or would like to view our travel/tourism credentials, please email Elaine here .
Tribe Global is a network of over 30 independent agencies and business Partners working together with an overwhelming passion for solving client challenges creatively, with a commercial imperative. Travelations are for travel marketers seeking global perspective, actionable insights and business advantage. For more Travelations and examples of our deep Tribal travel/tourism experience, find us at tribeglobal.net.